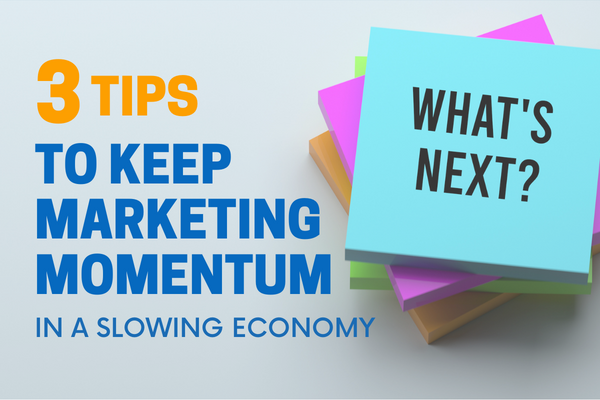 The economy is slowing down which makes it especially important that your marketing is up to speed. Competition is stiffer than ever and buyers are being more cautious, so how do you ensure your marketing continues to work for you? Here are three tips that will help you keep marketing momentum so you don't fall behind:
1. Seek Out In-Person Learning Opportunities
Marketing tactics and technology continue to evolve and change, even when the economy is slowing down. To keep your brand strong and relevant, you must continue to learn and innovate. In-person learning keeps you up to date on the latest trends and introduces you to new ways to market and make connections with your audience.
Learn from industry peers and experts to keep your marketing fresh and up to date. Some of the best ideas are born out of conversation and collaboration and in-person learning provides the best opportunity for this type of growth. Summits and conferences offer not only expert advice and instruction but networking opportunities that encourage conversations that help you put the learned information to practical use.
The Home Builder Digital Marketing Summit is a unique opportunity to learn and grow in an atmosphere you won't find at larger, mass-marketed summits. With engaging, hands-on learning, small group discussions, and networking opportunities, our summit will give you the edge you need to keep your website and digital marketing ahead of the competition.

Some of the topics and speakers you will see at the Summit:
Meeting Your Customers Where They Are – A Fireside Chat with Stephanie McCarty of Taylor Morrison Homes
Using Digital Tools to Create Emotional Connections with Dana Spencer of K. Hovnanian Homes
Buyers Navigating Change for Success with Kristi Allen of WoodCastle Homes
5 Secrets for Achieving Over 40% of Sales from Referrals with Bob Mirman, Eliant
Builder Panel: Preparing for an Uncertain Future with Kim Ross of Christopher Alan Homes, Sharon Baker of Camelot Homes and Susan Paul of Costa Verde Homes
Discover Hidden Gems in Local SEO Optimization
An Insider's Look at How to Use Social Media Influencers to Create Buzz
5 Analytics Tools to Improve Your Website: Hands-On Learning
Take a minute to look through the full schedule and speaker lineup and see what we have in store, then get registered so you don't miss out on this great in-person learning opportunity. You can register now using the code outhousefan for a $100 discount. This means you get your registration, including summit meals and a networking happy hour, all for the low price of $495. This is a small investment for a big return on your marketing efforts.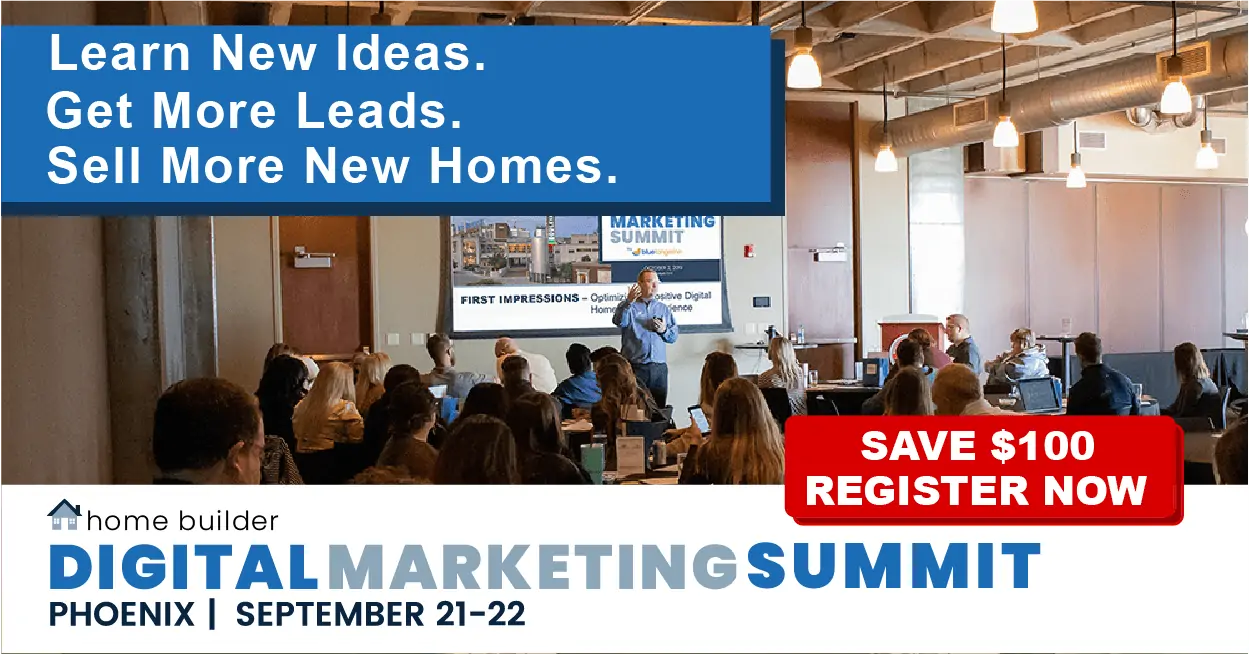 2. Dial Up Your Marketing
When budgets are tight it can be tempting to put marketing on the chopping block. Failing to ramp up your marketing efforts during an economic slowdown can be a costly mistake for the long-term health of your business. Maintaining brand recognition and providing information and visuals about your homes is vital. There are still buyers who want to buy now, an actively marketing builder will attract their attention and their business. Cautious buyers are using this time to plan. They continue to look for homes and research builders, continued marketing efforts is important to remain relevant and stay on their radar.
Increase your digital visibility. Effective SEO, robust audience lists and active social media engagement take time, you can't flip a switch and expect immediate results. Expending effort to grow these aspects of your marketing is the only way to remain visible to your audience now and in the future.
Become a trusted resource. Look for ways to create content that resonates with potential buyers' current concerns. Enhance your website with images, floorplans, and visual tours of the homes you build. Collect customer and partner testimonials to share on your website. Reliable, educational content makes you a trusted resource and builds relationships.
Dig deep into your analytics. Knowing where your audience is coming from, how they find you, and what they are looking for will help to refine targets and get the most out of your marketing spend.
3. Listen to Podcasts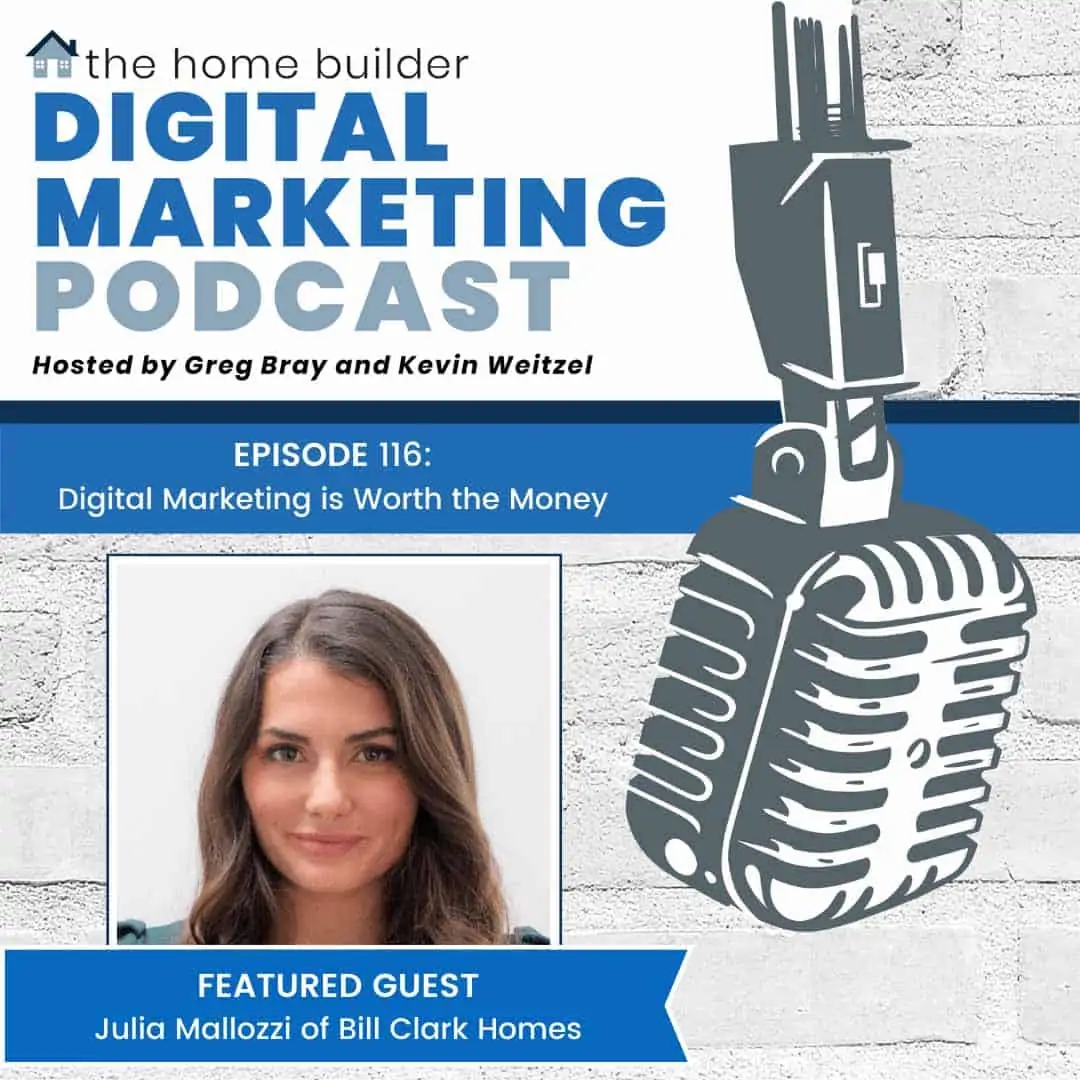 Podcasts are a great way to hear from a variety of experts and peers, providing a broader perspective and new ideas. By providing a break from the large amount of visual media we are exposed to each day, it is easier to focus when listening to podcasts and we absorb more information. Easily accessible, they provide an opportunity to engage in learning at no cost, even if you only have half an hour to spare.

The Home Builder Digital Marketing Podcast is rapidly becoming one of the most trusted resources for home builder marketers. Hosted by Greg Bray of Blue Tangerine and Kevin Weitzel of Outhouse, this weekly podcast covers topics that include building your marketing team, website development and optimization, brand reputation and management, selling homes online, marketing to buyers' needs, building relationships with buyers, embracing new technology, and much more.

Winner of the NAHB Nationals Silver Award in 2022 for Best Professional Development Series, and over 20,000 downloads, The Home Builder Digital Marketing Podcast is an invaluable source of information for any marketing team.
A slowing economy can be stressful; putting the brakes on your marketing efforts can be detrimental to the success of your business. Follow these three tips to keep up to date on the latest trends and tactics and to keep your brand fresh and relevant. Have questions? Let's Chat.