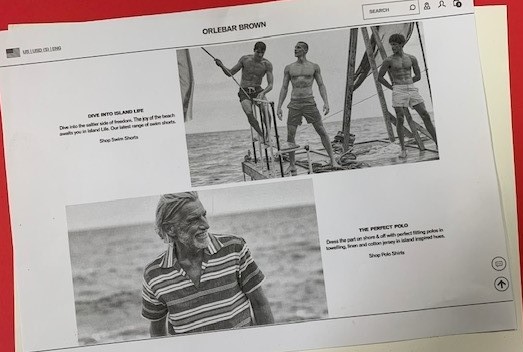 Although I have always been a big proponent of inclusion, a photo I recently stumbled across on a clothing website really got me thinking about the topic and its relation to new home sales. In the world of fashion – old comes long before age 30. It's rare to see models who are middle-aged, heavy, or imperfect in any way. Let's be honest, who doesn't like pretty!
Orelebar Brown is a men's clothing brand I had never heard of. But on their website, I see a handsome, older man with wrinkles, greyish hair, and a surfer coolness. The little voice in my head shouts, "I want to be THAT guy!" Yeah, there are the younger, handsome 20-year-olds in the background of the same page, but there is just something about the confidence and life-well-lived attitude this man exudes. And, he is probably the most representative of a buyer who can afford the $200 t-shirt – this is an expensive brand!
As a company that prides itself on a culture of acceptance and diversity, our marketing team at Outhouse has noticed a recent shift by many famous brands to be more inclusive. In the fashion world, Victoria's Secret now features plus-sized models. MAC cosmetics has their transgender cover girls. Even Gucci recently launched a campaign featuring all-black models. Many other brands are also thinking outside the box to present advertising that is much more inclusive. The bottom line is we want to see happy people that look like us. We all can't be cover models. And sometimes, that inclusiveness needs to stretch beyond looks. People with limited physical abilities, including those who are visually impaired or blind, want to "see" themselves in advertising as well.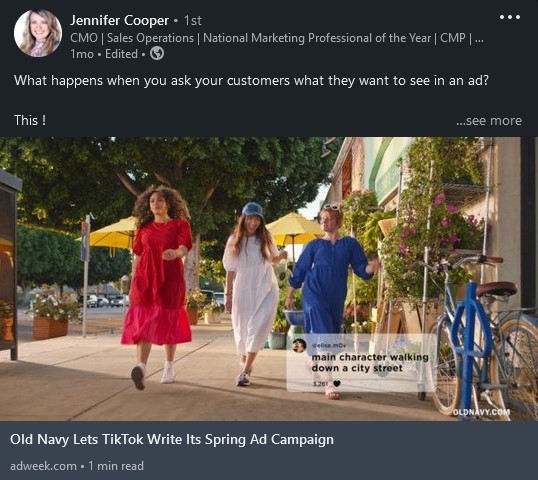 The move towards inclusion holds true for the housing industry as well. This topic is increasingly top-of-mind for builders and builder marketing agencies. Late last year, an episode of The Sales & Marketing Power Hour hosted by Outhouse friends Carol Morgan of Denim Marketing, and Kimberly Mackey of New Homes Solutions, focused on "Diversity, Equity, and Inclusion." In a recent post on LinkedIn, Jennifer Cooper of Evolution Marketing, the featured guest on our April 27th "Sales Office of the Future" webinar, shared an article about Old Navy letting TikTok write its spring ad campaign. In the post, Jennifer queries, "What happens when you ask your customers what they want to see in an ad?" In another post, Andrew Bazan from Lennar shares a Bloomberg article, "Removing Resumes From Hiring Process Can Improve Diversity." Hmm…this an intriguing idea!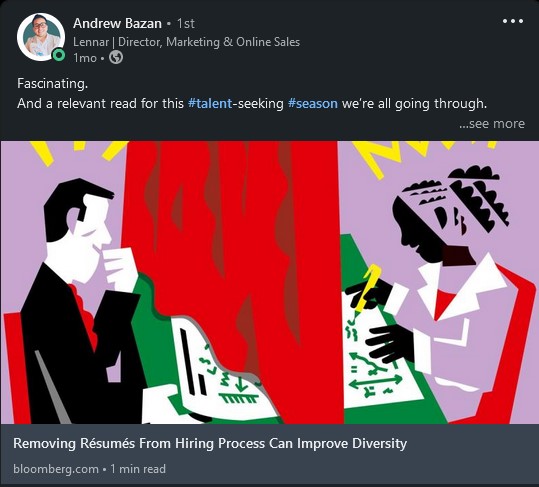 Although the Fair Housing Act stipulates that models used in advertising must represent both majority AND minority groups, a random review of home builder websites shows plenty featuring primarily happy, healthy, young, white families with a mom, dad, and 2.5 kids. This vision of America may appeal to many, but it certainly is not representative of our country's demographic make-up. It also sends a subtle message of exclusion, most likely not intentional, as builders are typically happy selling to any buyers who qualify.
Our industry is in a tremendous period of growth, so appealing to the broadest range of home buyers may not seem of paramount importance. But the tide will turn again at some point. Builders whose websites and ad campaigns draw a diverse group of buyers will better position themselves to prosper as we head into the next inevitable downturn. So, take a look at your website and marketing. Do you see yourself? Do you see friends and neighbors? Do you see the family down the street who may appear slightly different? If you are missing anyone, now is the time to make adjustments—your marketing matters. Even if you are a luxury builder, those families buying first-time homes today may be looking for more upscale homes tomorrow. According to the Prophet Brand Relevance Index, top brands like Apple, TED, Bose, Android, and Fitbit are human-centered. "Brands are finding success in our new normal by connecting with us as humans—by appealing to the head and the heart." And, we achieve connection when people see themselves, the vision of themselves they are trying to achieve, in our marketing efforts.